Learn About the UAE Golden Visa
If you would love to travel, study or work abroad, there is no doubt that the United Arab Emirates would be one of your most suitable destinations. The UAE offers attractive incentives and a variety of residency options which makes the experience of living in the UAE unparalleled.
How to Obtain Residency in the UAE
Whether for the purpose of living and working, studying, or scientific and academic development, expatriates from various different countries and nationalities may apply for a residence visa in the UAE if they fall into one of the following categories:
Those employees recruited to work in the government sector - In these circumstances, the relevant government agency will assist the employee to obtain a residency visa under its sponsorship.
A private company with an approved and existing license in the UAE may assist its employees to apply for a residency visa under its sponsorship.
Entrepreneurs/ investors who seek to establish their businesses and invest in the UAE can apply for a residence visa with the sponsorship of their registered company.
Subject to certain conditions, purchasing real estate in the UAE enables one to obtain a residence visa for the property owner.
Persons with specialized talents and researchers in various fields of science, technology and knowledge.
Academically strong students with promising scientific capabilities.
Conditions for Obtaining a Residency Visa
Applicants for residency visas, whether applying for the first time or for the renewal of an existing visa, must undergo a medical fitness assessment if they are aged 18 and over, and must also pass a security check test in order to be eligible for an Emirates ID Card. This ID Card is a form of identification provided by the UAE Government to its lawful residents.
Enquire Now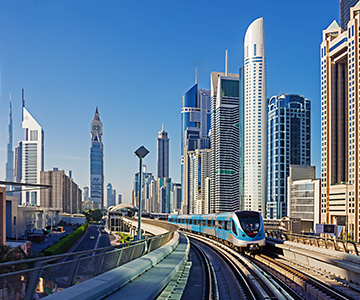 The Term of the Residency Visa
Depending on the type of visa, the duration of stay varies from one to three years.
In accordance with Cabinet Resolution No. 56 of 2018, there are now additional categories available where applicants who comply with certain requirements can obtain a long-term residence visa for a period of ten (10) years or five (5) years for those expatriate residents choosing to retire in the UAE.
Long-Term Residency Visas
As mentioned previously, the UAE recently implemented a system for the granting of long-term residency visas for periods of 5 and 10 years to investors, entrepreneurs and professional talents. These are the so-called, "Golden Visas".
In order to qualify for the new long-term stay visa, applicants must meet certain criteria as discussed below. Once granted, these long-term residency visa will also extend to the families of eligible applicants and will be automatically renewed should the applicant continue to meet the required criteria.
10-Year Residency Visa
The Federal Authority for Identity and Citizenship has prescribed the following categories of applicants who may be eligible for a 10-year residency visa:
Applicants who have made public investments in the UAE with a value of not less than AED 10 million, provided that any non-real estate investments are more than 60% of the total of such investments. Furthermore, the investment amount may not be the subject of a loan and must be retained for at least 3 years.
The UAE welcomes persons with specialized talents and researchers in the fields of science, technology and knowledge, including scientists, doctors, specialists, inventors and creative individuals in the fields of art and culture.
The granting of such visas is subject to the following requirements:
Scientists must be accredited by the Emirates Scientists Council, or alternatively have obtained the Mohammed Bin Rashid Medal for Scientific Excellence.
Creative individuals must be certified by the Ministry of Culture and Knowledge Development.
Inventors must hold a patent that has scientific and economic benefit to the UAE and has been approved by the Ministry of Economy.
Persons with exceptional talents must evidence this by holding patents or proof of scientific research conducted and published in a world-class scientific journal.
Executives may be either the owner of an internationally recognized company or someone of high academic achievement and position.
Doctors and specialists must have achieved at least 2 of the following criteria:

A professorial degree from a university accredited by the Ministry of Education and ranked among the top 500 global universities;
Obtained an award or certificate of appreciation for work in such person's specific field of expertise;
To have made notable research and scientific contributions in relation to such person's field of employment or expertise;
Publication of scientific literature or articles in distinguished publications in his field of work;
Membership in an organization related to such person's field of expertise, which organisation has work distinction as a condition of its membership;
A doctorate degree, and at least 10 years practical experience in such person's field of employment;
Such person must be specialised and skilled in areas that are of priority and important to the UAE.
Read more
5-Year Residency Visa
The following groups are eligible to apply for a five-year residency visa:
Those investors who own an investment property in the UAE, subject to the following criteria:
The gross investment value of the real estate may not be less than AED 5 million;
The amount invested in the real estate may not be the subject of a loan;
The Real Estate Investment must be retained for at least three years;
The investor should not be insolvent or a debtor, or have financial issues and civil trials that diminish his financial competence.
Entrepreneurs:
Entrepreneurs may be granted a renewable five-year residency visa for families and up to three employees, provided that the entrepreneur or investor has an existing project in an approved economic field with a minimum startup capital value of AED 500,000 or where an entrepreneur or investor has the endorsement of an approved business incubator within the UAE.
Outstanding Students:
Such students include:
Students who have obtained an average grade of at least 95% in public or private secondary schools;
Holders of university degrees, whether from inside or outside the UAE, provided that the student has obtained a GPA of no less than 3.75 upon graduation.
Read more
Note that the scope of the 5-year residency will extend to include students' families as well.