Drafting Non-Disclosure Agreements
Intellectual property and trade secrets are valuable assets for companies; therefore, it is worth drafting agreements that are strong enough to protect them. These contracts are prepared not to disclose any trade secrets and information to other parties.
This is a confidentiality agreement which does not give access to confidential information to any staff in an organization. Regardless of what it is called, the drafting of a non-disclosure agreement has to be entrusted to qualified legal counsel. Our lawyers tailor the non disclosure agreement as per the requirements of the clients.
With a pre-drafted non-disclosure agreement template, there's a risk of overreaching which often results in an agreement being invalidated. This is why clients of the firm seek our expertise and skill in drafting bulletproof NDAs that will be considered as legally enforceable contracts. Here are instances wherein clients trust us to have properly drafted non-disclosure agreements in place:
Discussion of licensing or sale of technology or product
When entertaining the licensing or sale of a technology or product, there is a need to prevent potential purchasers from using the numbers or information disclosed as leverage during other negotiations. While purchasers may say they have lower offers somewhere else, companies seek the help of our legal drafting team so sensitive information can be protected with an NDA and not disclose the name of their businesses and actual data.
Employees can access proprietary and confidential information
Company management works hard in building a business from the ground up. Things like manufacturing and supplier agreements, client lists, and proprietary processes all need protection. Clients hire us for drafting non-disclosure agreements to ensure employees don't walk out and open competing businesses using the company's valuable information.
Our lawyers and legal consultants in Dubai draw up non-disclosure agreements that address the specific needs of businesses. A confidentially agreement that is specific to the needs of businesses can help save money and time in the event wherein the contract has to be enforced.
Sharing information of a business with prospective buyers
When entertaining acquisition or buy out offers, there's a need to show all cards of the business, including every bit of operations and financial information. They have to be divulged when selling a business to a potential buyer.
There are serious buyers, but there are also those that are tire kickers. Large businesses entertaining an acquisition or sale make proof of funds a requirement, as well as the ability in closing deals before confidential information is released. At HHS Lawyers, we help businesses of all sizes draft NDAs to make sure they have sufficient protection.
Enquire Now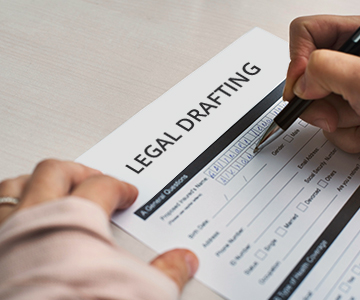 Regardless of the NDA's intended use, our lawyers and legal consultants make sure a non-disclosure agreement contains the key components of the contract, including the following:
Details of the confidential information
An NDA our lawyers draft specify the kinds or categories of information that are included in the contract without leaking the specific information.
Exclusions for the confidential information
Our non-disclosure agreements also include information that is already considered by all concerned parties as common knowledge.
Time periods
NDAs outline a time period wherein the signatory is required to keep any information specified in the legal documents confidential until their expiry. This provision is often up for negotiation.
Obligations
In this section, our lawyers help clients spell out what's expected for all those involved. For instance, it is prohibited to breach the agreement, persuade others in breaching the agreement, and help others in accessing the confidential information.
Some courts have issues with standard provisions included in NDAs from non-disclosure templates found online, especially those that include "any or all information." This is often unenforceable as the language is overly broad. A legal drafting team that specializes in the drafting of non-disclosure agreements help protects a business through enforceable NDAs.
In an economy wherein information is an asset, providing secrets sufficient protection has become a necessity. However, to derive value, businesses are required to share such with employees and business partners. HHS Lawyers can help you thread the needle in sharing confidential information through a well-drafted non-disclosure agreement.
Call us today to speak to our legal drafting team for non-disclosure agreement drafting in UAE!
Read more