Drafting Settlement Agreement
Settlement agreements are extremely important documents that require a high level of expertise and attention to detail in their drafting. There are several ways settlements go "wrong," which is why lawyers are sought upon before "making a deal." At HHS Lawyers, our inhouse legal drafting team consists of seasoned lawyers who have decades of experience in documenting settlements.
The firm has helped ensure settlement agreements of clients are valid by incorporating the key contract provisions, which are as follows:
Parties involved
With the drafting of a settlement agreement, our legal drafting team provides clear descriptions of parties involved, as well as who are going to be bound by the contract. It is necessary to ensure all parties (claimants, potential claimants, and defendants) are tied by identifying them by name, as members of classes, or as falling within particular descriptions.
Indemnities and undertakings
Our legal drafting service also includes provisions that a claimant won't bring proceedings related to the same claims in the future or indemnity for the defendant if it becomes a subject again for the same claims being settled.
Scope of settlement
This is where it is clearly stated what's being settled. Our legal drafting team helps clients carefully consider what a settlement agreement covers. This may include existing, future, and unknown claims. If what's to be settled is a narrower issue in dispute, then it will reflect in the contract.
Payment
One of the parties of a settlement usually makes the payment. It's important to specific by whom and to whom the payment will be made, to which account or by what method, by when, and in which currency. We advise clients on including provisions in relation to late payments. Also, the settlement agreement should also contain a breakdown of the payment that has been agreed by parties involved. Factors that are often considered in the calculation of a settlement payment include how long the dispute took to settle and potential cost or liability in defending a claim.
Legal costs
As parties most likely have acquired legal costs for the settlement, it's important to be dealt with in a settlement agreement. A dispute may be settled for an amount specified in the contract, but if there is no mention of the legal costs, then an agreement with respect to the costs can't be inferred.
Confidentiality
Parties may prefer a settlement agreement to remain confidential. If so, then this has to be expressed in the contract's confidentiality provision. The agreement may also permit certain necessary exceptions like pursuant to a court order or limited to the respective auditors, lawyers, and insurers of the parties.
Enquire Now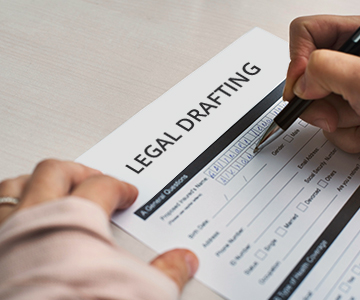 Governing laws and jurisdiction
It's important for this type of contract to include governing laws and the jurisdiction of the agreement so there's clarity on how disputes that arise are solved.
After a negotiation, which is often a hard-fought process, it's easy to overlook the essential elements of a deal when drafting a settlement agreement. However, the drafting of the legal document has to be done carefully and it must be reviewed by experts to make sure all elements are captured. When there's a mistake with the signed agreement, the court may be sought upon for rectification, but this process is quite difficult and getting it right can save lots of trouble for concerned parties down the line.
The skilled legal drafting team of HHS Lawyers doesn't just help in the drafting of settlement agreements, but also advise on all aspects related to employment legislation and employment-related litigation. For further information, please contact our lawyers and legal consultants in Dubai to arrange a free initial consultation.