Drafting Terms and Conditions of Businesses
The terms and conditions lay out the contractual foundation between a business and its customers. Regardless of whether the business offers products or services, terms and conditions have to be properly drafted as the document protects the business, defines its procedures, explains what it's agreed to do, and limits liability.
Special provisions are to be added to the contract, depending on what the business provides. The legal drafting team in HHS Lawyers create effective legal contracts that don't just meet the specific needs of businesses, but also easy for customers to understand.
Some of the reasons why businesses seek the help of our experts for the drafting of terms and conditions include:
Business protection
If terms and conditions of a business are not specified, then the business is put at risk for user uncertainty and/or misunderstanding.
Abuse prevention
The document is legally binding; therefore, it can act in preventing users of products or services from misusing or abusing them. Terms and conditions lay out guidelines for how products or services are used. A well-drafted contract also includes information on what will happen in the event that the guidelines are not followed by the user.
Content ownership
The content that a business provides its users is of its ownership and it has to be protected from misuse and/or theft.
Limiting liability
No product or service is perfect, which means it is bound to have errors. Terms and conditions provide a warning to users that the business won't be held responsible when errors occur.
Enquire Now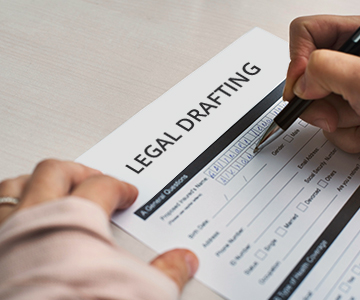 Depending on the kind of service being provided, you'd want terms and conditions to be tailored specifically to your business' needs and requirements. This type of legal document is incredibly powerful, and you'd want to ensure your business takes advantage of the tool. At HHS Lawyers, we help clients ensure the terms and conditions of their businesses have the necessary provisions, which may include:
Privacy policy
If you're collecting personal information of users (e.g. names, credit card information, addresses), you'll need a privacy policy, which will discuss how private information is used, disseminated, and/or stored.
Rules for accounts or subscriptions
If you're offering accounts or subscriptions, the terms and conditions should explain the rules for such and how they'll be terminated when abused.
Our legal drafting team helps clients create terms and conditions that comply with local regulations and achieve what they're intended to achieve. Below are the key elements and crucial questions we ask businesses so terms and conditions are effective and tailored to their needs:
Obligations of the business
What's the scope of the product/service that's offered by the business? Is there a limitation on it? What happens if there's changes to the service?
Obligations of the customer
What does a customer have to do to receive a product/service? What happens if it's not provided?
Intellectual property
Who'll own intellectual property in products/services provided to or created for the customer?
Payment
When is payment required from customer/user? What's the process for acquiring payments? Will there be charges for late payments?
Termination
How will a party be able to terminate the agreement? What's the impact of termination? What will happen to partially completed work and outstanding fees?
Liability
Will a business be liable in the event that something goes wrong? If someone suffers a loss due to the service, what will happen?
Dispute resolution
If there's a dispute, what will happen? Is there a specific process that has to be followed before a dispute is brought to proper courts?
Drafting terms and conditions of a business is important in setting out how customers engage with a business and creates a contractual agreement with the business and the customers. Putting together the legal document can seem daunting and complicated as it is difficult to word properly to make it valid or effective. It is always recommended to seek the help of a law firm in UAE to assist with the legal drafting.
The expertise of our seasoned legal drafting team will not just help in putting together terms and conditions for your business, but also help with legal issues that your business may have. Call us today for a free initial consultation!
Read more
Enquire Now