With a management agreement, operational control of an enterprise or specific department is given to a management company, wherein it is to carry out and/or make decisions on the functions specified in the contract, i.e. marketing.
At HHS Lawyers, we help clients draft management agreements that limit the control or include all the operational functions of a contracting company for a specific department or enterprise. As our legal drafting service for management agreements include expert advisory, clients get the assurance that all key aspects are addressed, including benefits and obligations.
Management agreements are necessary for organizations. This type of contract is also used in various industries for several different functions. The seasoned lawyers and legal consultants of the firm have decades of experience in the drafting of different kinds of management agreements, including:
Hotel management agreement
It's common for a hotel management contract to give the managing company control over service guests, in conducting marketing and promotional services, and in the maintenance of a hotel's premises. The legal drafting team of the firm helps hotel owners set operational policies and control for a contracting company.
Our team is capable of creating hotel management agreements that are short- or long-term. Take note: with a hotel management agreement, the operator often retains the upper hand when setting the provisions of the contract.
Property management agreement
We've also helped property owners create contracts to outsource the management of properties, either residential or commercial. Our legal drafting team has made management contracts for property managers to be in charge of maintenance, rent collection, tenant management, and other arrays. We advise clients to include entire properties in property management contracts as issues may arise from conflict of interest if different companies are managing a single property.
A property management contract is not only for a large business as we've also helped individuals in need of such so contracting companies can look after a vacation home, second-home or any other type of real estate. A management contract can be beneficial for both the property owner and the management company.
At HHS Lawyers, the lawyers and legal consultants that comprise our legal drafting team also help clients create management contracts for the following:
Manufacturing outsourcing
Project outsourcing
Professional outsourcing
IT outsourcing
School management
Hospital management
Clinic management
Read more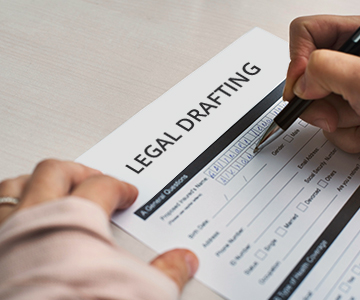 A management contract from the firm always consists of three key components to be effective and enforceable, and they are as follows:
Conditions
This is the most detailed and lengthiest part of a management contract. In this section, the contract clearly identifies the parties that are involved, as well as the specific functions to be transferred to a service provider. It includes outlines of rules and responsibilities of both parties and the extent to which a party can influence operational functions as soon as the contract commences. To avoid conflict and confusion, the conditions have to be clarified.
Duration
This section specifies the agreement's duration and how long a management company is to be in charge of a particular function, department, or enterprise. The duration can range from a couple of months to years. There may also be specific conditions in relation to the duration of a management agreement. For instance, if certain metrics haven't been met, then the contract will be terminated.
Compensation method
A management contract also has to specific the method for calculating management fees. The management fee can be set at a certain percentage, sum related to the performance of the management company, or set sum. For instance, a % of the gross profit or % of the total revenue.
The legal drafting team of HHS Lawyers takes time in understanding the requirements and needs of businesses for the drafting of management contracts. We help ensure distinctive specifications are added to every agreement from identifying relevant variables. To discuss your needs on management contract drafting with our legal drafting team, call us today!
Read more