A partnership agreement can be complex; getting it right is essential in order to ensure a business has fair and solid foundations. At HHS Lawyers, our team for legal drafting in Dubai is composed of seasoned lawyers and legal consultants. Partnership agreements we draft for our clients contain key provisions that define the company management, day-to-day business operations, and company insolvency apart from how profits and losses will be shared between participants.
Our legal drafting team understands that legal documents, including a small business partnership agreement and a partnership dissolution agreement, are crucial before investors start spending time and money on ventures.
Going into business is exciting for partners, yet it's vital to not lose sight and take proper care of the less thrilling legal side to plan the future of the business. A partnership agreement is absolutely essential for any business venture and we can help your business stand in good stead to get through an entire business life cycle.
Enquire Now
Partnership Agreement Drafting in Dubai
There are a number of factors that have to be put into consideration when drawing up partnership agreements to be deemed valid in UAE. A partnership agreement varies widely. Our experts on partnership agreement drafting in Dubai make sure parties cover essential components of such kind of legal document, which are as follows:
Assets
How will the assets, including premises or facilities, of the business be used and divided? Will they belong to just one partner or all partners want joint ownership?
Duration
How long will the contract last for? Will the partnership agreement be in a fixed term or will it last for an entire lifetime of the partners? Is partnership agreement termination possible following handing in of a notice? Would the company's duration be dictated by specific events like expulsion/death of a partner or bankruptcy?
Profits and losses
What percentage of the company profit and loss will each partner be responsible for? Would the partners be allowed to withdraw cash on account of company profits or only from realized profits?
Capital
How much capital will each partner provide? In what way will additional capital be arranged or sub-divided?
Relationships
Where does power lie with the partnership? Will all parties have equal authority or will one party retain greater power? How will a voting be arranged? For disputes, how will they be resolved between the partners?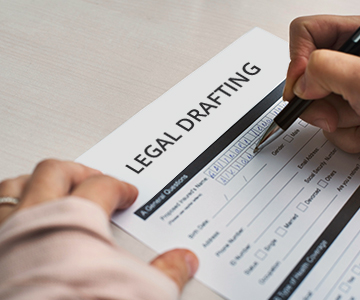 The skilled legal drafting team in HHS Lawyers has helped local and foreign investors alike draft comprehensive partnership agreements that are not only tailored for their businesses, but also help in keeping operations smoothly running with limited disputes.
The drafting of partnership agreements is not a straightforward process. Creating one that works perfectly for the venture and interests of all involved parties isn't something you should cut corners on.
Ensuring experienced attorneys assist in its creation and for partners to invest a bit of time and effort with the drafting of the legal document can help ensure the venture has a stable future from the secure foundation the agreement offers.
At HHS Lawyers, we work hard in making sure the legal drafting services we offer are efficient, convenient, and clear, most especially for the drafting of a partnership agreement. We strive in ensuring every single one of our clients receive helpful, transparent advice that will stand the partners and the business in good stead for the long-term.
If you want to learn more regarding our partnership agreement drafting service, talk to our team of legal drafting specialists today. You can call or email us to book a free, no-obligation initial consultation with our seasoned lawyers in Dubai.
Read more