A sale addendum, an important legal documentation in UAE, is an additional attachment to original contract such as sale and purchase agreements (SPA). The sale addendum would be the document that provides any additional information or requests that are not put on the table by the buyer in the original SPA.
Any addendum attached can be altered and take note: it's an extremely powerful kind of document. There are many real estate firms in Dubai who add or even impose sale addendums or addenda to purchase contracts. This document makes the deal's details more streamlined and easier for involved parties to read.
At HHS Lawyers, our lawyers and legal consultants in Dubai have decades of experience providing sale addendum drafting services, which help prevent issues that potentially arise with newly updated laws. Of course, this includes with the process of purchasing or selling a new house.
Enquire Now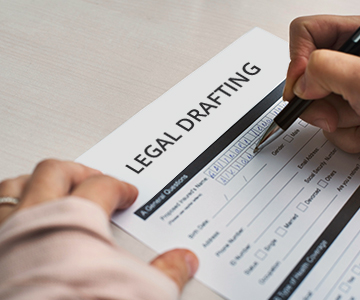 With decades of experience in drafting durable legal documents, our lawyers and legal consultants in Dubai are very capable of creating different types of sale addenda. There are different instances where sale addendums can be added. However, the most common sale addenda that clients require help with the drafting include, but are not limited to:
Addendum to SPA or purchasing contract
Adding an addendum to a SPA or purchasing contract helps to modify the terms and conditions of an existing agreement. Attachments are used efficiently in order to update the terms or conditions of contracts. There most often is modification and clarification to an entire contract, which include the provision of the date extension and also complex payment procedures.
Addendum to tenancy contract
This contract allows the tenant or landlord to make informed changes to an agreement with the landlord or tenant. It is better to add an addendum instead of changing the actual tenancy agreement. This addendum will act as an addition to a tenancy contract, as you may already know. Each party must sign to the contract when both parties agree to addendum.
Our clients seek the help of our lawyers to draft the sale addendum because they get that assurance that important legal documents are comprehensive and tailored to address the requirements that are often unique. With our help, we can help ensure that your sale addendum includes the following crucial points:
Definition, section, clauses and terms that need modifications from the original contractual agreement with all parties agreeing to and signing off on them;
Parties involved agreeing to the legal language that is used in the document added to the original contract;
Solutions that address loopholes present in original contracts. Take note: if you find a loophole in an existing contract, it is best to consult with a lawyer in Dubai as soon as possible so as not to create any misunderstanding with the other party involved.
If you are seeking to create a sale addendum, we would recommend you to consult with our legal experts. The lawyers at HHS Lawyers work on behalf of all our clients, providing them with all the help that they need in order to receive quality solutions.
Experienced Lawyers for UAE legal drafting services
Our legal drafting services in UAE allows for the quick completion of the process of legal drafting, leading to greater client satisfaction and meeting of tight schedules. Our experts take utmost care and attention in drafting legal documents, including sale addenda. Call us today if you want to book a consultation with our team.
Read more
Enquire Now
What is an addendum to purchase agreements for a property?
Real estate contract addendum is an additional document that is attached to the purchase contract. It is prepared and submitted with all its modification.
What is the meaning of special addendum?
Special addendum usually refers to additional documentation required by a company or financial institution. This agenda usually explains and clarifies terms of sale agreements beyond what is considered as the standard.
How will an addendum supersede a contract?
The addendum and the contract are supplementary to each other and should be read together. In case of a conflict between or dispute regarding the terms of the addendum and the existing contract, the terms of the addendum shall supersede the terms of the existing contract.
What is the purpose of an addendum?
Addendum is an attachment to contracts and it provides additional details or any alterations made to the original agreements.