Tenancy Contract Attestation
You need tenancy contract attestation in UAE if you have a home and you wish to have a section of your property rented by a family member, friend or tenant. You also need attestation for a tenancy contract if you're a property manager, running a placement service for tenants in UAE, or you're a tenant who's currently looking at renting a property.
A tenancy contract is an agreement between a tenant and a landlord. The contract sets out everything that's been agreed by both the tenant and landlord about the tenancy. It has to then be processed for attestation with the authorities. Take note: a tenancy contract for attestation in UAE has to be in writing. A landlord has to provide a tenant copies of the contract prior to when the tenancy begins. Tenants and landlords in UAE can't avoid obligations by not creating an agreement in writing for the tenancy.
A tenant has to read the tenancy contract prior to signing it. It has to include all agreed terms and conditions. In the event that you have found a condition that you don't fully understand, it is important that the document isn't signed and attested. Seek advice from a lawyer first.
At HHS Lawyers, a firm based in Dubai, UAE specializing in tenancy contract attestation, we provide assistance in different kinds of government transactions. We're able to not only offer the attestation of a tenancy contract in UAE, but also provide your tenancy contract a thorough review.
Read more
Enquire Now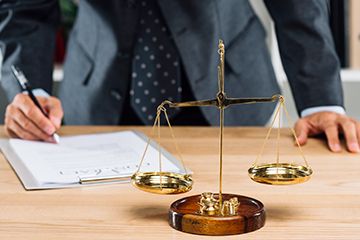 Requirements for Tenancy Contract Attestation in UAE
At HHS Lawyers, we compile, review, and submit the requirements for tenancy contract attestation in UAE, which include the following:
Tenant's passport copy
Original emirates ID
Tenant's Visa copy
Original copy of the tenancy contract with signatures of the tenant and landlord
Landlord's passport copy
Landlord's Visa copy
Previous tenancy agreement (in the case for renewal)
DEWA bill (can be DEWA receipt if there is no bill yet)
Ownership certificate of property (has to be supplied by the landlord)
The following documents are needed if the tenant will be residing in one property with family members:
Spouse or family member's passport copy
Spouse or family member's Visa copy
Spouse or family member's Emirates ID
The lawyers in HHS Lawyers can process the tenancy contract attestation in UAE for you, which involves the following steps:
Review and submission of the requirements
Registering the tenancy contract with Ejari
Payment of registration fee (two percent of tenancy value)
Attestation of tenancy agreement with applicable government department
Take note: a new tenancy agreement is valid for a certain number of years in UAE. The rent of a leased property can only be increased once the tenancy has been completed.
Read more
Tenancy Contract Attestation in UAE: Advantages
Save Time and Energy
Doing the attestation process without the supervision of an expert in government transactions can be quite a hassle. There are a lot of approvals to seek from several departments. On top of that, it would be hard to know whether all requirements are correct and complete without knowing what to compile and look for. By hiring lawyers in processing the tenancy contract attestation for you, you are able to gain extra time which you can spend on concentrating on more important things than queuing up in government agencies.
Trouble free
An attestation service for tenancy contracts involves a smooth process for getting a contract legalized and be legally binding in the eyes of the law. By seeking the help of professionals, all you have to do is submit the requirements as they can handle the entire attestation process for you.
Save Money
Having experts process the attestation of your tenancy contract for you will help you save money in comparison to doing it yourself. You will significantly reduce the cost for document processing and document clearance. If you make a mistake with a step in the attestation process, that also means more expense on your part. An expert can help you avoid exactly this.
These are just a few of the benefits that you can gain from our services for attestation of tenancy contracts in UAE. If you are in Dubai or anywhere in the country, don't hesitate to talk to our lawyers and legal consultants today. Initial consultations are free-of-charge, and we can answer all of your concerns regarding the tenancy contract attestation process.
How can I have a tenancy contract attested if I'm in Sharjah?
The same process is required for tenancy contract attestation in Dubai as with attestation in Sharjah or any other emirate. Similarly, the same requirements are also needed for the completion of the legalization process.
What should be in a tenancy contract?
A tenancy contract should lay down all the rights and obligations of the parties involved, which in this case, are the tenant(s) and landlord(s).